Envision Eye Care is a small private office whose mission is to provide excellent service and quality products to our patients. To update ourselves with the latest advances in patient care and ophthalmic products, our doctors and staff attend numerous seminars and workshops throughout the year. Your satisfaction is our utmost reward.
At Envision Eye Care, you'll also be able to find a wide variety of eyewear that will appeal to you. We feature an amazing selection of frames from all over the world including Japan, France, Switzerland, Italy, Spain, Denmark, and the U.S. There are so many unique and stylish frames that you'll be sure to find the right pair for your new look. And with frames from affordable to extravagant, there will surely be a look that's right for you.
---
Meet the Optometrist
Giao Q. Nguyen
Doctor of Optometry
Envision Eye Care
Dr. Giao Nguyen graduated Magna Cum Laude with a degree of Doctor of Optometry in 1999 from the University of Houston College of Optometry. She also holds a Bachelor of Science degree in Chemical Engineering from Rice University (1986).
Dr. Nguyen has 4 children: Robin (a Chemical Engineering graduate from the University of Texas Austin), Leslie and Chloe (both engineering graduates from Rice University), and Spencer (a student at Carnegie High School). She spends most of her spare time volunteering as a teacher at a Vietnamese language school and knitting! She tries to stay healthy with yoga and fitness classes, and watches the Foodnetwork channel, making notes of recipes that she will hopefully try some day.
Specialties
Family Practice
Diagnosis and Treatment of Eye Diseases
Contact Lens Fitting
Computer Vision Syndrome Evaluation
Achievements
Beta Sigma Kappa International Optometry Honor Society
National Eye Institute Research Fellowship
Deborah Adler Grinberg Vision Science Award
Phi Lambda Upsilon Honor Society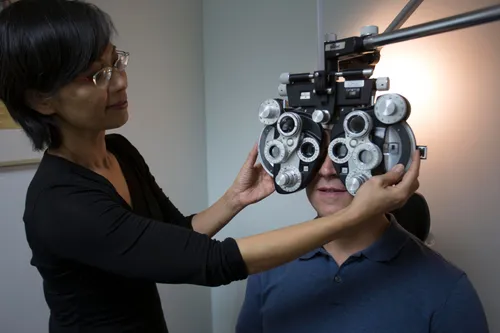 ---
Meet the Staff